Our sunset is finally here: the Generation Challenge Programme officially closes today, Wednesday the 31st of December 2014. It is with great sadness, but with even more joy and pride, that we say our farewells, look back on all that GCP has achieved in its decade of existence, and look forward to GCP's legacy to the researchers, farmers and hungry consumers of the future.
As GCP reaches its end, we would very much like to thank all those who have been part of the GCP journey, whether as active participants or simply cheering us on. This card is for you, with our heartfelt gratitude (and please keep reading, as we have more to say below!).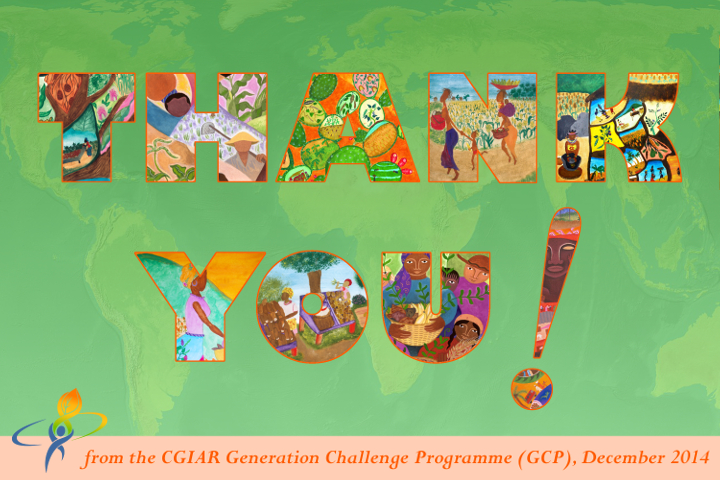 The GCP family is both mighty and numerous, and we cannot hope to name all those whose invaluable contributions have helped make GCP what it is.
First and foremost, we thank the Product Delivery Coordinators past and present who have provided essential leadership and vision to each of our Research Initiatives, and the Principal Investigators who have shepherded each of GCP's projects – sometimes through green pastures and sometimes along stony paths – to their triumphant conclusions. Our sincere thanks also go to all the hundreds of researchers who have worked with them, and whose efforts have been instrumental in the results and impacts that GCP has achieved.
A body is nothing without its head, and so we offer our profound thanks to the members of our Executive Board, and its predecessor the Programme Steering Committee. Defying anatomy, they have furnished GCP with not only brains but also a heart and firm hands to steer the GCP ship deftly on its course. We further thank all the members of the Consortium Committee, the Intellectual Property Advisory Committee, the now defunct Review and Advisory Panel and Programme Advisory Committee, and the Integrated Breeding Platform's Scientific and Management Advisory Committee, for their indispensable advice and guidance. (See our current governance and advisory bodies)
We are deeply grateful to all of our funders, whose steadfast faith in GCP enabled this remarkable decade of collaboration and discovery. And last but not least, we thank all of GCP's staff, both past and present, as well as consultants and others who have worked with us, for their incredible hard work, loyalty and habitual miracle-working.
We would also like to offer a special and thankful mention to our esteemed 3,000-plus readers of GCP News who have faithfully stayed with us through the years, as well as our friends, fans and followers on all our social-media accounts (see them all along the top and bottom of our website).
Together, we have created something remarkable (as our external reviews attest), and none of us will continue in our lives untouched by the GCP spirit. To all those listed above, and to all our other friends who have collaborated, contributed and cheered us on our way – THANK YOU!

Just as it would be impossible to name each and every person who has been part of GCP, we also could not possibly list all the ways in which GCP will live on. GCP's legacy takes many forms: new crop varieties for farmers, scientific knowledge, relationships between researchers, both young and senior scientists trained in the latest tools and techniques, new ways of working together… we could go on and on!
However, there are a few things we would particularly like to mention. The Integrated Breeding Platform (IBP) is one of GCP's most important offspring, and in many ways its heir. IBP is a one-stop shop for both conventional and molecular breeding activities, making the latest tools and knowledge available to breeders across the world. Its Breeding Management System (BMS) offers a suite of interconnected software designed to help breeders manage their day-to-day work at all stages of the routine breeding process. IBP has also taken over the hosting of certain GCP activities, such as the crop-specific communities of practice fostered by GCP, so that these will continue to go from strength to strength.
Many other GCP projects are also continuing in new phases and forms – their success at securing funding from new sources a validation of their accomplishments so far. For example, Tropical Legumes I and II projects, respectively led by GCP and ICRISAT, will be merging into a new incarnation, Tropical Legumes III, to be led by ICRISAT. In general, the work in GCP's key Phase II crops – cassava, legumes (beans, chickpeas, cowpeas and groundnuts), maize, rice, sorghum and wheat – will continue under the umbrellas of the CGIAR Research Programmes, as we had hoped and envisaged in our 2010 Transition Strategy.
Meanwhile, you can expect a few final news posts from us in the New Year, as we wrap up the Programme and its communications. It's our pleasure to announce that, thanks to your demonstrated interest, the GCP website will continue to be online (albeit as an archive), so you will still be able to call in for any GCP information you need – or purely for nostalgia. And we will continue to publish our collection of closing stories on our Sunset Blog, so keep visiting for upbeat and comprehensive journeys through GCP's achievements, including how GCP has done things differently, our impacts, what we have learnt, and how these will carry on into the future.
Finally, we have one more special thank you to give: to our GCP artists Durga Bernhard and Rhoda Okono, to CIMMYT designers Miguel Mellado, Marcelo Ortiz and Eliot Sánchez for incorporating their beautiful artworks into so many gorgeous designs over the years, and to our web developer and designer Brandon Tooke for stunning concepts. Without Rhoda and Durga to give us our signature look, GCP would hardly be so colourful or distinctive. If you enjoyed the glimpses of their paintings in the thank you card above, why not sample the full works in our online galleries? The first exhibit is fittingly a 'decoding' of the lovely logo that Marcelo designed for us in 2004, and the sunset twist Brandon has added to it since (see below).
On that joyful artistic note, from us here at GCP, fare thee well, thank you, and long live the GCP spirit!

P.S. Hold on! We're not done just yet with our roll of honour. Please step forward, Vincent Vadez, groundnut researcher, for giving substance, form and name to that which most of us felt and loved, but could not put a name to – the GCP spirit. Here's what Vincent said in a survey response in September 2011: "I feel that GCP is not a consortium, or an institution. It is a spirit." And thus, a handy and legendary moniker was born, that served us well in the years that followed, and that will hopefully live on into the future. Thank you Vincent for that down-to-earth gem of groundtruth from our main groundnut researcher!